About the artist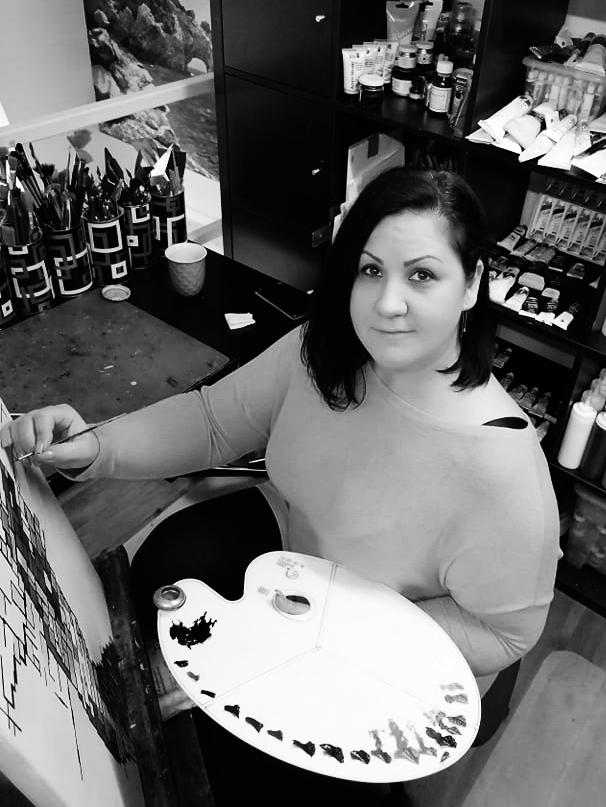 Her name is Ruth Schmidt, nee Ilonka. Born in Transylvania in 1982, today she lives and works in Budapest (Hungary). By profession, she is an accountant. The dreary nature of numbers didn't make her happy, so she was constantly looking for something different. She tried many jobs, but none of them satisfied her needs for creativity.
Finally, at the prompting of a friend, she took up painting in her spare time, initially with acrylic on canvas.
If you ask her how long she has been painting, she would say since 2017, even though she started earlier, attending several drawing and painting classes. These years before 2017, she prefers to call "experiments."
In 2017, she began to learn the mysteries of classical oil painting with her teacher, Kalman Gasztonyi, and this brought on the real change.
The years 2017-2021 are dedicated to learning and growing. That's why he made so many study paintings in so many different styles. He loved Piet Mondrian, Andy Warhol, Salvador Dali, Albert Bierstadt, Rembrandt van Rijn, Károly Markó... These names show that he was open to new trends and liked to try out many different styles and techniques. These can be seen mainly in his eclectic study paintings, where he mixed elements of different periods, styles and trends, and his admiration for Warhol and Mondrian in his pop art and Mondrian-inspired geometric figurative paintings. It is in these years that his search for a new path is evident.
Around 2020, he started painting his symbolist and surrealist paintings in a realist style. In these he found himself.
Her teacher, Kálmán Gasztonyi, writes about her:
"Ruth Schmidt draws on the knowledge of the masters of past centuries, using their painting techniques to address the people of the 21st century. Her works, painted with the biggest professional shyness and fantastic precision, provide an aesthetic visual experience that is unmistakably unique to her. The paintings are narratives where the bare experience gets enriched with stories and feelings. Ruth's basic nature is fun, a positive worldview, humour. Unfortunately, humour is having less and less space in contemporary painting, even though it is one of the greatest gifts of our lives. Fortunately, the Creator was generous with this gift to Ruth. The depiction of divine power also appears in her paintings, as her faith is very important to her. Her painting is perhaps best characterized by symbolism, but surrealism also appears occasionally. After all her 'study paintings' we will not find in her work a simple still life, or landscape or classically planned compositions. There is always a 'twist' by Ruth out there that transcends and makes the realistic painting to art.
Ruth's talent, diligence, and sense of purpose have many, many more excellent paintings in store for us."
ARTIST STATEMENT
He found himself in his symbolist paintings, which sometimes veer into surrealism. His goal is to continue to paint paintings that "say the unspeakable". He wants, as the symbolist painters do, to use his paintings not only to copy the visible world, but to convey thoughts and feelings. He likes to paint the reality behind the perceivable world, he wants to see the invisible things like childlike faith, affection, human-human feelings, the relationship between God and man, passing, hope, love, love, pain, humour...
His themes are drawn from his own experiences, events and impressions, each a small piece of his soul. His paintings are oil on canvas.
"Every artist dips his brush in his own soul, and paints his own nature into his pictures." (Henry Ward Becher)
SOLO EXHIBITIONS:
2022 – Romania (Vlahita) – Aron Gabor Cultural Center – "The Great Journey" – solo exhibition (July)
2021- Hungary (Budapest) – Secret Gallery – "With different eyes" – solo exhibition (November)
2020 - Hungary (Budapest)- Schmidt Ruth Paintings- independent gallery and studio- permanent exhibition (from March 2020)
2017 – Hungary (Budapest) - Danube Plaza- "Development", solo exhibition
GROUP EXHIBITIONS:
2023 - France (Paris), Carousel de Louvre- Salon International D'art Contemporain (October)
2023- United Kingdom (London) - The 6th London Art Biennale (July)
2023- United Kingdom (London) - The Holy Art Gallery- group exhibition (July)
2023 – Hungary (Budapest)- Teravarna Gallery (Los Angeles, USA) and Golden Duck Gallery – (Budapest) - artBIAS- First International Art Show- group exhibition (June)
2023- Spain (Madrid) - Gaudi Gallery- "The brushstokes of freshness"- group exhibition (April)
2023 – Hungary (Budapest) - Golden Duck Gallery – "The First Catalogue "- group exhibition (April)
2023- France (Nice) - Nice Art Expo - International Art Exhibition- represented by the Spanish Gaudi Arte Gallery - Madrid, (April)
                                                                                                                                                                                  
2023 – Hungary (Budapest) - Golden Duck Gallery – "Art for Peace"- group exhibition (February)
2022 – United Kingdom (London) – New Artist fair- The Truman Brewery –(September)
2022- Hungary (Budapest) -"Simple Garden" (Jancso Art Gallery) - "Spring in the city"- group exhibition (April)
2022 – United Kingdom (Newark) – Thoresby Gallery - "Human Gold" – group exhibition (February)
2021 - United States of America (New York) - People and Paintings Gallery- "Vulnerable" - group exhibition online
2021 - United States of America (New York) - People and Paintings Gallery- "Our God-image and our transcendent world"- group exhibition, online
2020 - Hungary (Budapest) - Zsilip Art Center, "Master and his students"-online ,group exhibition (December)
2020 - Canada (Toronto)- Tall Sequoia Gallery- "Artists of the World"- group exhibition online (May)
2020 - United States of America (Arizona, Scottsdale)- Camelback Gallery- "Amazing Animals" - group exhibition online (April)
2019 – Hungary (Budapest) - Zsilip Art Center – "Flora and fauna" - group exhibition
PUBLICATIONS
2023 - Budapest- Novart Culture and Arts Magazine (June 18) -online article
MEDIA APPEARANCES:
2023- Hungary (Budapest) - RTL TV- "Célirány" -report (26 November)
2023- Hungary (Budapest) - Művész Ma, Culture and Arts Magazine, online (29 July)
2023 - Hungary (Budapest) - ARTsCAP Contemporary Art Magazin 2023/2/XI appearance ("Art for peace" exhibition)
2022 - Budapest- ARTsCAP Contemporary Art Magazine 2022/1/X appearance ("Human Gold" Exhibition)
2021 - Hungary (Budapest) - On Karc Fm 105.9 Rádio, "Paholy" ( converastion with Antal Marosi) - (theme "With different eyes" -solo exhibition)
2017 - Hungary (Budapest) - On Karc Fm 105.9 Radio, "Paholy" -converastion with Antal Marosi – (theme "Development" -solo exhibition)
OTHER APPEARANCES:
Heartist.com
FAC Artwork portal
CATALOGUES:
2023 - Masters of Modern Art at the Louvre Complex- MOCAMAG Museum and Gallery- (Austria)
2023 - A 6th The London Art Biennale - UK (London)
2023 - Fine Arts Capital - "First Catalogue" - Hungary (Budapest)
2022- Thoresby Gallery- Universal Human Values - UK (Newark)
2020 - Creativ Guts Zine- Spring edition - USA (Newfields, New Hampshire)
RECOGNITIONS:
2023- United States of America (Santa Barbara)- World Wide Art/ Artavita Competition - first place
2023- United Kingdom (London), selected as one of the artists of the 6th London Art Biennale
2023 – USA (Los Angeles)- Teravarna Gallery- "7th Animal" –International competition, Talent Award (June)
2023 – Hungary (Budapest)- Teravarna Gallery (Los Angeles, USA) and Golden Duck Gallery – (Budapest)- artBIAS- First International Art Show- "Special Jury Award" (second place) (June)
2021 - United States of America (New York) - People and Paintings Gallery- "Vulnerable" Painting Competition- Audience Award
2019 – Hungary (Budapest) - Zsilip Art Center painting competition- "Fauna and Flora"- audience vote (professional category) – Best in show
2019 – Hungary (Budapest) - The Zsilip Art Center painting competition (professional category) - second place
 MEMBERSHIP:
From 2022 Fine Arts Capital Arts Association
 COLLECTIONS:
Private collections:
Australia, UK, Romania, Germany, Spain, Hungary
PARTNERS:
David Art Gallery - Hungary (Budapest)
Golden Duck Gallery- Hungary (Budapest)
Hunagrian European Artist- United Kingdom